Opportunities in the onion business
4 May, 2021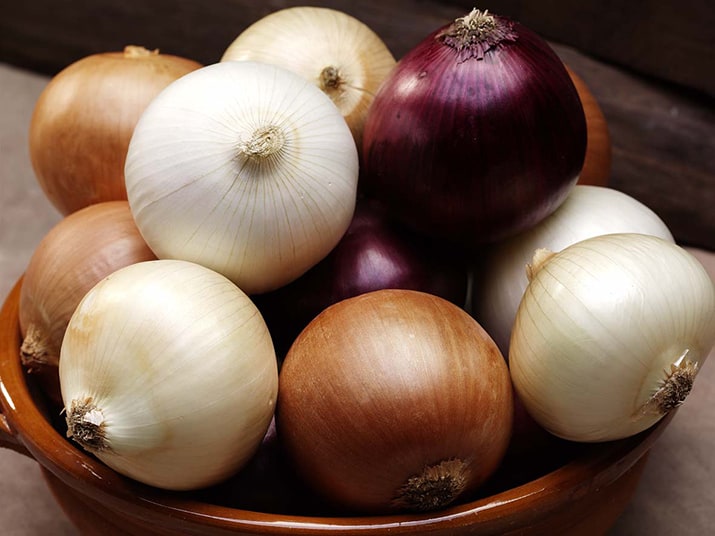 Onions are undoubtedly one of the most important vegetables in our diet and one of the most versatile for cooking. Nevertheless, this vegetable that can be found so often in our groceries list is frequently disregarded in big distributors' sales and marketing plans. This is quite a big mistake that should be fixed, as there are many opportunities for trade and growth in the onion business.
We know nowadays that one of the determining factors of purchase decision is the product use and the different cooking possibilities it offers. Consumers want to know. Just displaying the product, introducing price policies, showcasing it one way or another, or placing it in this or that place within the establishment is not enough.
Onions rank third among the most eaten vegetable, beaten only by tomato and potato. Average yearly consumption is 10 kg per person, a figure that increased in the last two decades with the introduction of new kinds of onions (red, white, sweet, bunching onions, spring onions, etc.) and there is still a long path ahead in the segment of fresh manufactured products.
Whereas seasonality may affect sales on the whole, weekly sales of onion remain constant in the various stores throughout the year. A big challenge for distributors is managing to get consumers know the different varieties, their cooking uses and properties, in order to draw further attention on a certain kind.
Drawing attention.
Drawing attention starts at minding the sale point and keeping it clean, free from peels, leaves, or any other kind of debris that may damage the product's good looking. Good rotation is essential to keep the product fresh and capture as much attention as possible.
Promotion at sale points
Key issues
Appropriate manufacturing of bulk products is fundamental, especially when dealing with those varieties that are more susceptible to damage or impacts like sweet onion.  
In the meantime, there are several ways to boost sales and some of them are as follows:
Offering an assorted range of varieties and formats. Presently, we can find several kinds or varieties that are determined by the product's external looking (red, white or yellow colour), its ripeness (spring onions, standard ones), and its cooking uses (salads, onion rings, sautés). Supply must include an optimal share of bulk and packaged products.
Underlining product seasonality to highlight the product's origin and its optimal conditions. This does not only draws attention but boosts impulse purchases given the product's local nature or limited availability.
Bringing the organoleptic properties (flavour, texture, colour, etc.) of the different kinds of onion together with their cooking possibilities into the spotlight through eye-catching banners and other means. This gives consumers information and help them choose their varieties according to their needs.
Properly labelling packaged products, including nutritional information, recipes, preservation tips. Consumers appreciate this and show positive response to the brands that do so.
Establishing synergies of sales promotion with related products, such as vegetables for grilling or fresh asparagus for instance. It stimulates creativity and gives consumers ideas.
Implementing cross-marketing strategies, placing the product in other departments than the usual, besides products like meat or pasta, which would trigger creative cooking ideas. The larger the number of display places, the more sale opportunities.
Seizing the opportunity of regional (or national) holidays that could entail occasional increase of sales. Sports events, festivals, or Designations of Origin are an asset.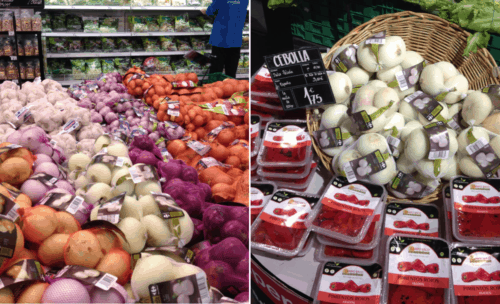 Versatility
An essential ingredient in the kitchen.
The number of recipes that use onion is really amazing, given this vegetable's versatility. Its potential is unlimited. This is a unique trait of onion that should undoubtedly be exploited by sellers or retailers to the maximum.
In fact, segmentation has already been happening in the last years. Consumers choose one particular kind of onion over others in order to satisfy their cooking needs. Some of these are spring onion, sweet onion, standard, dark-skinned onion, and those that introduce different colours or flavours into our dishes. Educating consumers in this segmentation is essential to improve sales.
Onions play a well-earned main role in several fast-food chains. Onion rings, plain or batter-breaded, farmer's burgers, or even the funny 'Blooming onions' served at the restaurants of a known chain from the United States. Ask yourselves whether you can name any other vegetable more visible and protagonist in catering franchises.
Consumption trends.
Faced with the economic downturn we are undergoing, it seems evident that consumers will favour consumption at home over eating in restaurants as a saving measure. This is therefore an opportunity for retailers to improve sales of fresh products, and onion is a basic product that is consistently and constantly consumed, always present in our shopping cart. This is an opportunity for any store to supply a well-assorted range of product, to provide ideas for consumption, and to boost growth in the sector.
There is a kind of onion for each occasion but, unfortunately, consumers do not know about it until supermarkets inform them. Communicating and educating consumers is essential to develop any strategy of commercial growth and fresh products are no exception.
The upward trend in consumption of healthy products is a matter of fact and their significance is growing more and more in consumer society. It means a new opportunity to capitalise on consumers' attention to basic products and boost sales. The emergence of organisations like '5 a day' and others which promote consumption of fruits and vegetables is of invaluable help for the sector's sales and growth.
One of the most significant challenges faced by commercial distribution is meeting consumers' expectations.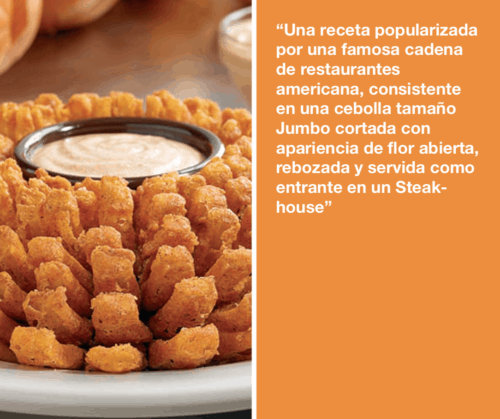 The sweet onion
Regarding the foregoing, the sector is firmly banking on offering barely pungent onions, commercially named sweet onions, and particularly recommended for salads. This product is clearly related to consumers' health and well-being and has been a catalyst for onion sales in many establishments. It has undergone a quick commercial development and meets consumer needs.
Thus, sweet onions can nowadays be found in most of foodservice chains all year round, just several years after they were first introduced. This onion is an example of value added and innovation that meet the expectations of today's consumers, who look for new experiences at the same time they care for their health.
It is no surprise that, having seen the product's commercial development, there are imposters who try to trade products labelled as sweet onions which do not meet the expectations linked to the name: low pungency (<5 mmol), mild flavour, and absence of after-taste.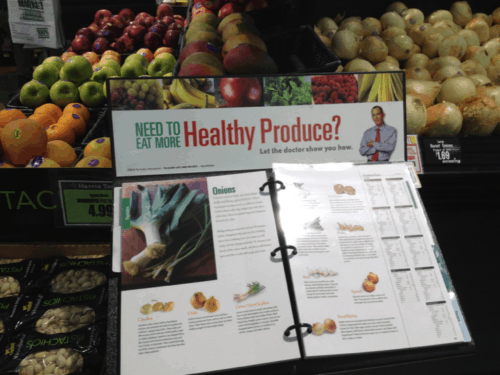 Promotional tools
Onion as a leading figure
It seems logical thinking that many consumers would purchase more fruits and vegetables if they knew how to cook and prepare them. This is not a simple issue but requires joints efforts from suppliers and sellers to educate consumers in the use of products and preparation of dishes.
Cross-merchandising is one among marketing tools to foster consumption of fresh produce through the combination with or complement of other products. There are recipes requiring several ingredients that can be found in the same department or in different ones, and this is an additional sale opportunity for a product that was not originally included in the shopping list. Pasta, salad, or skewer recipes are an example of it, and could be included in labelling as a promotional feature.
Another of these tools is the use of exhibition stands provided by suppliers to clients in big distribution. These are an excellent opportunity to draw consumers' attention with colourful graphics, to highlight the product's visibility and to communicate preparation ideas. We must be aware that onion is not a product that stands out in the fresh department on its own, unlike fruits of remarkable colour or aroma.
Likewise, isles or small sub-sections could be arranged within the fresh department, giving major weight to a particular product in them. Onion is almost a must for many consumers and distribution and foodservice chains should not miss this advantage.
The use of packaging including recipes and ideas for preparation is clearly an opportunity to boost consumption as well as to transmit many ideas through pictures or text. Further information on producers, the product's history or producer area, links to online contents, or raising awareness about any particular cause (fight against cancer, etc.) are just some examples.
Bulk sales should not be a hindrance for promotion either, as it is possible to install banners next to the product, which underlined its properties and cooking uses, or displayed promotional brochures or books.
Now, tidiness and cleanliness of the place is in these cases essential, as is the setting. A warm, harmonious place with noble materials makes purchasing experience more pleasant and also catches consumers' attention. It is not the same finding heaped, badly arranged things surrounded by peels, or finding the sale point in perfect conditions. This aspect is quite often disregarded but undoubtedly requires careful attention..
Although the sector of onion offers many opportunities to increase sales, given the product's low visibility in the fresh department, retailers need to showcase the product's properties and to educate consumers in its uses and preparations. They must also provide the necessary marketing tools for the product to be in the spotlight.
As specialists, we must be able to transmit to our partners -retailers as well as the catering industry- the many opportunities that exist to promote sales of such a versatile, nutritional product.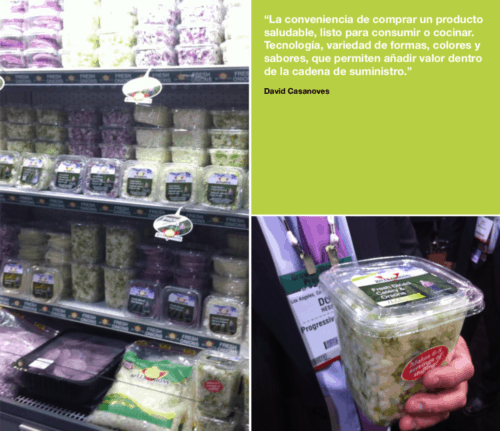 Fresh-cut onions
A new horizon to explore
When we talk about catering industry, onion is practically omnipresent, essential to prepare tasty dishes, sauces, soups, snacks and so on. The range of varieties and availability of this versatile vegetable has never been so broad and its possibilities are huge. Chefs and specialists in supplying catering business are trained to learn the unique qualities of the available varieties.
We do not mean just about caramelised or fried onion, which undoubtedly earned good acceptance among consumers for their aroma and presentation, but fresh-cut rings, slices, cubes or stripes that facilitate peeling and cutting. This adds value to the product and increases sale possibilities, as onion can be combined with other vegetables of similar characteristics like celery and leek.
It all started in the 90s with the introduction and development of ready-to-eat salads. Their presence in the business of commercial distribution has been growing since then. Later on, other processed, cut, washed, ready-to-eat vegetables joined, such as carrot, pumpkin, broccoli, potato, etc. The variety of shapes and colours is really amazing. Recently, fresh-cut and ready-to-eat fruits entered the markets and new formats and presentations that improve the displayed product's visibility and looking have been developed.  
Onion provides health, texture, colour, flavour, as well as convenience, which is more and more present in foodservice chains. The main challenge involves the price to pay and making consumers aware that they can purchase manufactured onion with the high levels of quality, freshness, and safety allowed by current technology. 
We probably will not be able to know how much are consumers to pay for the value added of ready-to-cook and ready-to-eat products until the economic downturn is over, but there is a high potential for growth. This has been proven in some countries like United States or United Kingdom, where some of these products grow faster than the original commodity itself.
The potential for catering and foodservice industries is huge and there is always the possibility that some of the big catering chains like McDonald's or any other promoted certain variety or format and triggered an escalation of global demand.
Sweet onion is perfect for restaurants because of its mild flavour, which allows to use it uncooked in salads, or barely cooked in wraps, sandwiches or other dishes. Availability all year round is already a matter of fact through imports from third countries and this is one of the products that most helped boosting sales of onion in recent times. Many supermarket chains know this, and sales of sweet onion already mean 30% of total onion sales in some foodservice chains in the United States. A complete success after many years of promotion, communication and involvement of the different stakeholders.
Chefs and restaurateurs are getting to know it better and better every day and they also specify its use on the menu. This cook-consumer communication is vital for the development of any interesting product of a particular sector or category, and it is rewarded by an increase of consumption and sales.