Japanese Kabocha Pumpkin Soup
1 June, 2021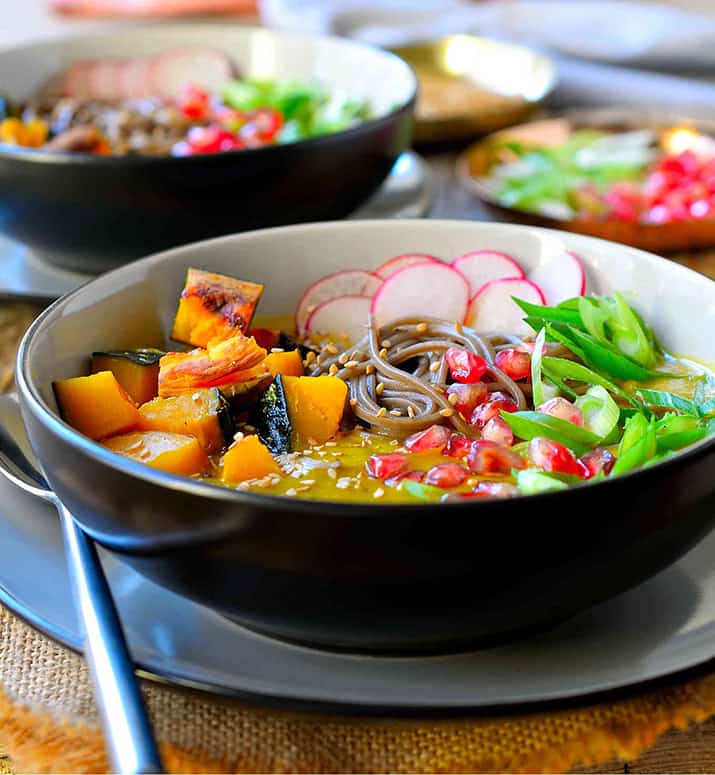 In this recipe we have kabocha squash as one of the main ingredients. A typical Japanese soup with soba noodles that represents a complete lunch or dinner, all in one bowl.
Without further ado, we leave you with this fantastic recipe for Citro and citronella in which we will learn to combine kabocha squash, soba noodles, pomegranate seeds and horseradish.
Incredible!
Ingredients
1 Japanese kabocha squash, well washed
3 – 4 tablespoons of oil
1 head of garlic
1 onion cut into thick pieces
2 servings of dry soba noodles are usually 50 grams each serving
600 – 800 ml of hot water
1 teaspoon salt
The juice of half a lemon
The seeds of half a pomegranate
2 radishes finely chopped
1 – 2 spring onions, chopped Sesame seeds for garnish
Step-by-step 
1. Preheat the oven to 200°C. Cut the pumpkin into large pieces and cover with a few tablespoons of oil. Cut off the top of the head of garlic to reveal the cloves, pour a little oil on top and wrap in foil. Arrange the squash pieces and garlic on a baking sheet and roast until the squash is soft and caramelized – 30 to 40 minutes. You can also do what I did and microwave garlic with this garlic roaster.
2. Meanwhile, heat a skillet over medium-low heat and add a tablespoon of oil and the onion. Sauté slowly, stirring occasionally, until the onion is golden, sweet and candied – about 30 minutes. Boil soba noodles according to product directions, drain, and rinse with cold water. Drain again and reserve.
3. Remove the pumpkin from the oven and reserve a few pieces to decorate the soup. Put the rest of the pumpkin in a blender with the caramelized onion, a few roasted garlic cloves, the lemon juice, salt and 500 ml of water. Liquefy. Add more water until you get the consistency you like for the soup. Taste and add more garlic if you like (I added the whole head because I love garlic) and adjust the salt to taste.
4. Serve the soup in two bowls and decorate with soba noodles, pomegranate, spring onion, sliced ​​pumpkin, radish and sesame seeds.
–